In the 2023-24 season, the FIM Superenduro World Championship field will visit Budapest again. Following this year's sold-out domestic race, TRP Events will hold the event on 3 February, 2024, at Hungary's largest event hall, the MVM Dome.
This year's Superenduro GP of Hungary race generated enormous interest, as all tickets were sold out weeks in advance. Seeing the huge success, the event organizer, TRP Events decided to hold the race on 3 February, 2024, in Hungary's largest indoor event hall, the MVM Dome.
The date and venue have also been confirmed by FIM in the provisional 2023-24 race calendar, which shows that the season will start on 25 November, 2023, in France, and the Hungarian round will be the fifth in the series.


The MVM Dome is Hungary's most modern venue
MVM Dome is the latest multifunctional event space in Europe and also amongst the largest such facilities in the continent. Depending on the interior arrangement the total capacity is up to 20 thousand. Opened 16 December, 2021 the Dome hosted several matches of the 2022 European Men's Handball Championship.
The facility boasts innovative spaces and versatility in layout arrangement as well as unique architectural features. Hungary's largest and most modern multifunctional event hall is suitable for large-scale concerts, shows, family entertainment, corporate events and exhibitions thanks to its special building management solutions, cutting edge sound, lighting and visual technology.
The outstanding event of Hungarian motorsport
The Hungarian round of the Superenduro World Championship is typically the first significant motorsport event in Hungary and is particularly popular among both the riders and the audience. The competitors praise the track, and the interest of the audience has risen to such a level that the race can be held in Hungary's largest hall.
In terms of sports results, this year's event was particularly successful, with Norbert Zsigovits competing for the first time in the Prestige category, and Márk Szőke winning a race and finishing second overall in the European Cup.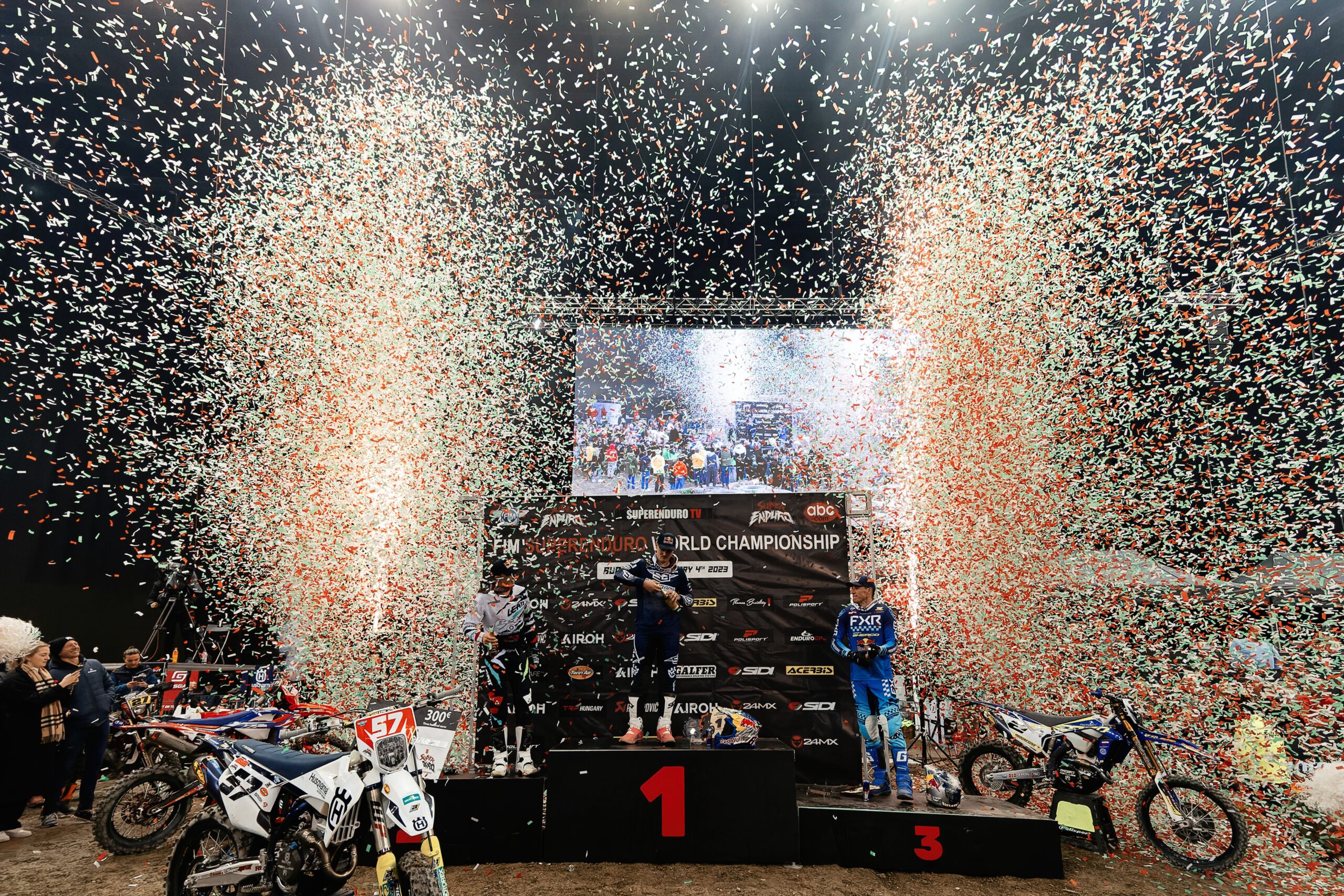 Organizing the Superenduro event requires a huge effort
Preparations for the 2023 Superenduro GP of Hungary will begin in the summer, while track construction will begin two nights before the race. To create the proper track, it requires 1200 cubic meters, or roughly 1600 tons, of wet dirt, 40-40 tons of stone and wood, and 3.2 tons of fiberglass tubes.
As for the day itself, a total of 300 people is accredited for the event. Fifty radios, three kilometres of cabling, two million pieces of equipment and countless colleagues is needed to make everything work perfectly. The effort that the organisers has to put in during those four days is shown by the fact that 300 cups of coffee and 270 cans of coke is consumed every day.
The 2023-24 Superenduro World Championship race calendar:
25 November 2023.: Lievin (Arena Stade Couvert Lievin), France
9 December 2023.: Krakow (Tauron Arena), Poland
6 January 2024.: Riesa (SachsenArena), Germany
20 January 2024.: Cluj-Napoca (BT Arena) Romania
3 February 2024.: Budapest (MVM Dome), Hungary
24 February 2024.: Sofia (Arena Sofia), Bulgaria
2 March 2024.: Newcastle, United Kingdom (not confirmed yet)